thanks for all your encouragement and congratulations about
my first sale
!
i just posted up some new designs over at
my shop
, and since you were so very nice last time, i thought i'd post them here, too.
kris
was one of the winners of my giveaway and now that the sign is safely in her hands, i'll share what she chose:
kris wanted something similar to
grant's name plaque
, but since she won the canvas sign, we tweaked it a little and put it on canvas.
the next two were made for my dear friend,
kathleen
. four years ago, i made one for her first born and since then, she's had another little boy and is now expecting a little girl! her daughter's room is yellow with some pink, so here's what i came up with: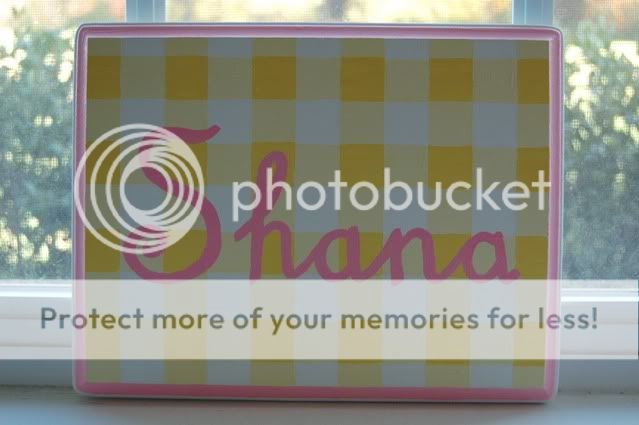 the paint came out a little gloopier than i would have liked and i wish i had written the name a bit higher up, but overall, i like the gingham. actually, i've always liked gingham. i blame it on dorothy.
her second son just turned three, so i figured it was about time i made one for him! i hope he didn't mind that it was so belated!
the dinosaur's a bit wonky looking (i've always been a bit stinky at drawing animal legs), but i'm digging his smattering of spots. hopefully david thinks it's dino-mite! sorry, couldn't resist. ;)
thanks for indulging me again! :)