six months ago today
, this sweet 15 month-old boy was placed in our arms.
he was an absolute dream come true and an answer to so very many prayers.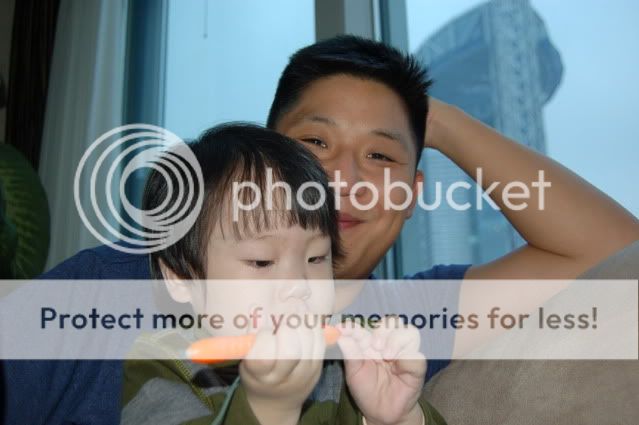 he was a bit unsure of what was going on, but still showed us parts of his goofy and charming personality.
but, he was scared, too.
and quite honestly, so were we.
we didn't know how our journey as three would unfold.
but, we knew that we'd travel it together.
and six months later... my, how far our travels have brought us!
in many ways, it's hard to believe that it has *already* been six months since choi boy has been with us. everyday we marvel at the fact that we have the joy and privilege of having cb in our lives. it is amazing to think that we have already had six full months of marveling. :) time flies when you're having fun, right?
and what fun we've had!
the goofy little personality we saw in korea quickly and fully revealed itself into full-blown goofiness.
he is still the same little one we met back in december (in the same weird bart simpson korean pajamas -- hey, it's laundry day...don't hate!),
but he is now fully *home*. not only physically, but also emotionally. he *knows* us and we *know* him and we have settled nicely into our groove as a family. there are certainly still many unknowns in our continuing journey, but we now travel that road knowing our roles and our strengths and even our weaknesses. and we travel it with an overwhelming sense of absolute joy and comfort in knowing that we are truly WE.
so, in other ways, it is hard to believe it has *only* been six months since cb joined us because it's hard to imagine and remember what life was like before he made his sweet entrance into our arms and our hearts.
we love you SO much, cb...and we thank the Lord daily that He chose you for us.
finalization, here we come!