it's instafriday time! really, this is my excuse to instagram just about everything. ;)
phew! we have had a busy, busy week! there are several chicago recaps to come (we are having a total blast!), but for now, here are some snippets of what we've been up to that won't make it into individual posts. be warned, it's long. ;)
are you lucky enough to have a rita's in your 'hood? we are. and we la-la-la-LOVE it. it is some serious yums.
and i love the cheeky little phrases on their cups.
yup, it's true. the world does need more rita's. especially this yummy new cantaloupe flavor!
the hubs keeps a football in his car. and any time we ride the hubs' car, choi boy insists on holding the football. the other day, he fell asleep in the car like this:
doesn't he look like a sad, sad quarterback after a major loss?
cb got another haircut. and apparently, the third time's a charm because there were no tears this time. yay! rather, cb sat and looked at himself in the mirror throughout his cut.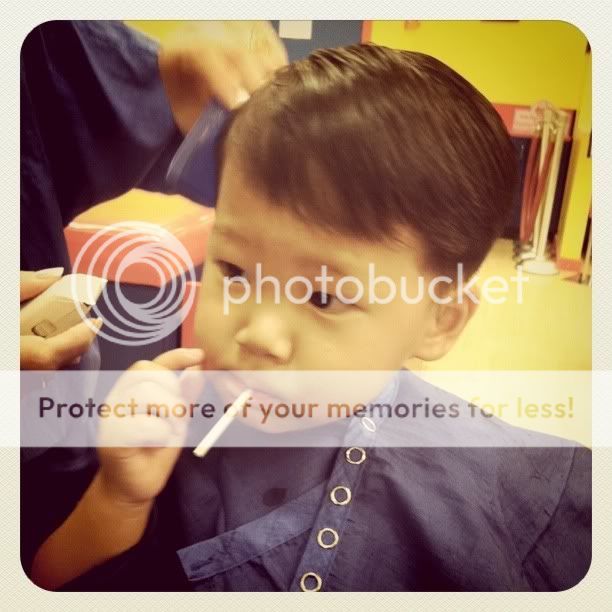 i'm pretty sure he's saying, "just a little off the top, please."
i was secretly hoping we'd bypass the whole train obsession, but it looks as though it's inevitable. sigh. one of us left this train table with a bit of kicking and screaming.
'twasn't me.
when we booked our flight to chicago, we booked it around nap time, hoping cb would sleep on the plane.
of course
, our flight was delayed and choi boy fell asleep in the security line and woke up as we approached our gate. perfect, huh?
but, i decided to take advantage of cb's nap and got one of those 10 minute manicures. it was actually more like a 15 minute manicure. meh.
and then i took this picture:
and then i got sad because my hands don't look so youthful anymore. and because this color wasn't as pretty as i thought it would be. i should have stuck with boring pale pink.
as for the actual plane ride?
cb was a total rock star. he got lots of high fives and fist bumps as we were exiting the plane. :)
once we arrived in chi-town, choi boy and his cousin bonded over an impromptu drum session.
notice the blur of fast-moving hands and molly's hilariously adorable face!
cb and i went exploring and i snuck into a stranger's yard to snag some shots of my two favorite summer flowers:
hydrangeas...sigh...so beauteous.
hibiscus...dreamy.
choi boy continues to work on his "cheese"...
...and it slays me every. time.
this picture makes me both smile and feel a bit sad.
cb was happily munching on his PB&J, watching the world go by and probably daydreaming. so cute. but it also reminded me of those kids that sit all by their lonesome at lunch time. sniff. :(
check out this CRAZY dandelion!
it's like it's on steroids! gross!
lately, choi boy has been throwing his arms behind him when he wants to run really fast. it's awesome. and it cracks me up.
i'm pretty sure he does it because it makes him more aerodynamic.
people, we have a future rocket scientist on our hands.
and finally, cb has been sleeping in a pack-and-play while at my sister-in-law's. i suppose the pack-and-play is not as comfy and squishy as cb would like. so, my little stinker pops up and pulls/steals a pillow off my bed (which is right next to the pack and play) and lays on it instead.
when i went in to snap this photo, i thought he was sleeping, but i thought wrong. he saw my phone and said, "CHEEEESE!"
what a sillyhead!
will you join the party and link up?