*warning, this one's gonna be a long one. like, reeeally long.
i'm a total sucker for all that disney marketing. i am. it's sad. the last time i went to disney world, i was 25, and when my sister and i saw the princesses, we cried. *total* dorks, i know. told ya, sucker.
anyway, as much as we loved islands of adventure, we were so excited to head to the magic kingdom because choi boy has serious love for the mouse known as mickey. we were looking forward to sharing the magic with him (as fabricated and smartly marketed as that magic may be), but cb didn't quite understand all that fuss we were making.
soon enough, we pulled into those magical gates (aka, where you pay ridiculous amounts of money for parking).
it happened to be rainy and grey, so we bought and donned some super stylish ponchos,
and it was time for the magic to really begin!
appropriately, the first thing we did was head to see the mouse! thankfully, because of the rain, the crowds were fairly light and there was hardly any wait time. and cb? as soon as we saw mickey, he got it. *totally* got it.
he ran over, gave minnie a smooch,
and then ran straight into mickey's arms.
such sweetness.
the boy couldn't keep his eyes off of mickey!
and all day he kept talking about how nice mickey was and how he hugged him. that right there, those first 20 minutes? totally made our trip to the park worth it. :) we would have loved to stay and hang out with mickey longer, but his handler told us to move on and make sure we gave mickey some space. i'm not kidding.
the mickey photo op conveniently exits into a gift shop, where somehow, within minutes, i spent $40 on mickey ears, a stuffed mickey, and a mickey cell phone. say wha??
but, c'mon, look at this:
forty bucks well spent, no? ;)
next, we ran over to say hello to tigger and pooh. clearly, the bear and the tiger are not nearly as important as the mouse because they were out in the open with no handlers to be seen.
which was okay, because it just meant more hugs for CB!
from there we made our way down main street, USA (my favorite area of the park),
and went straight to the castle.
yes. *the* castle.
!!!
choi boy had a blast watching the stage show and insisted on wearing his ears the entire time. :)
at one point, i'm pretty sure he thought he could be *in* the show...take a look (and please excuse my dad directing cb, and please take note of 1. cb's dorky parents taking snaps of his every move and 2. cb reaching for his mickey cellphone at the end so he could snap pictures, too):
hilarious, no?
our first ride was "it's a small world" -- not my favorite, but certainly something our entire party of 9 could enjoy. including a two year-old.
who loved when we pointed out the dolls from "kee-ya"!
from there we went to the winnie the pooh ride. the neat thing about the rides at disney and universal was that they do their best to make the waiting fun...cb loved hanging out in rabbit's garden!
the ride, however?
it started out great, but then proceeeded to become another big mistake. all that blacklight and those heffalumps are flippin' scary! not cool.
we left the pooh ride with a teary and overtired cb. he promptly fell asleep and took an epic stroller nap for a little over two hours!
we strolled around the park in the drizzle and posed for some shots in front of the now pink castle and ate more funnel cake and ice cream -- holla!
(fyi, those ponchos are totally on this spring's it-list.)
finally, it was time for what we had been waiting for -- the elecrical parade! i have such fond memories of the parade from when i was a kid at disney, and i was excited to watch cb's reaction to the parade.
we followed my dad as he lead the way.
he claims he bought that light up sword for cb, but he did have an awful lot of fun with it himself. ;)
and cb's reaction to the parade was priceless!
from straight chillin',
to curious stares,
to squealing with delight upon seeing his bud, mickey, again,
cb loved seeing all the fun characters float by!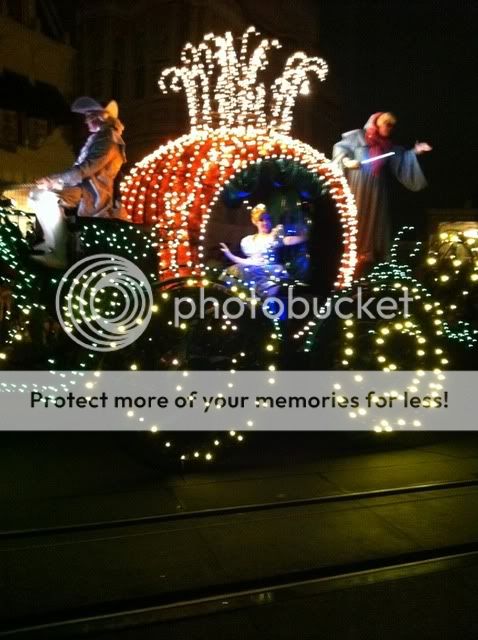 in fact, he loved it so much, he got super giddy and all lovey dovey, doling out hugs and kisses and acting silly.
:)
and then there were the fireworks. amazing, magical, beautiful fireworks.
and though they were rather loud,
they were a magnificent ending to our day at the magic kingdom!
actually, i take it back.
*this* was our perfect ending:
:)
so thankful to my parents for this fun trip -- we had a blast!